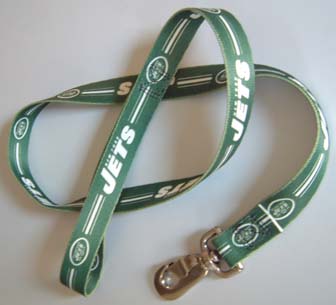 Other leashes
Super lead with ski grip
Rugged lead with ski grip
Flex o' leash line
Team logos
Safari Lead
Slip and go

Leashes with team logos
Your Rover can sport your favorite team logo.

We have leashes for the New York Yankees, Mets, Knicks, Giants, Jets, Rangers, and New Jersey Devils

Description, style number, and price
Length: 4'
3/4" Web
Style number: LEAHUN4042
Price: $17.95

Length: 6'
3/4" Web
Style number: LEAHUN4062
Price: $19.95

Length: 4'
1" Web
Style number: LEAHUN4043
Price: $21.95

Prices do not include shipping, handling, or applicable sales tax.

We accept Discover, Mastercard, Visa, and American Express credit cards.