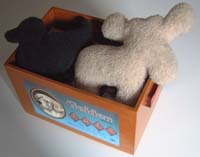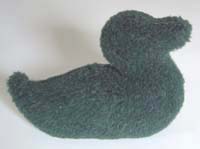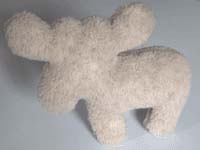 Other toys
Plush toys
Pull toys

Moose and Mallard plush toys
Your Rover and his friends will love these cuddly stuffed toys. These fabric toys are handcrafted in the USA using only nontoxic, durable materials.

They are hand closed with double duty thread and contain a well-hidden, long lasting squeaker.

Mallard is available in two sizes and moose is available in 3 sizes.

Description, size, style number, and price
Mellow Mallard
Size: 7-1/2"
Order number: TOYWES0D20
Price: $11.95

Mercurial Mallard
Size: 10"
Order number: TOYWES0D21
Price: $15.95

Misty Moose
Size: 7"
Order number: TOYWES0D10
Price: $11.95

Motley Moose
Size: 11"
Order number: TOYWES0D11
Price: $15.95

Majestic Moose
Size: 13"
Order number: TOYWES0D24
Price: $22.95

Prices do not include shipping, handling, or applicable sales tax.

We accept Discover, Mastercard, Visa, and American Express credit cards.