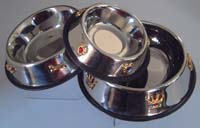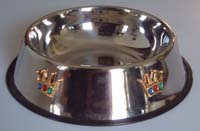 Other bowls
Mirror finished stainless steel
Hand painted ceramic
Feeder bowl stands

Mirror finished stainless steel bowls
Now, you will be eager to show off your pet's bowls anytime and anywhere.

A jewelry designer here in New York City designed these beautiful bowls. Each bowl is made of mirror finished stainless steel with non-skid rubber bottoms, and is hand tooled with cast metal ornaments, plated in silver or gold. The ornaments are made with brass screws and are bolted onto the bowls. We recommend hand washing of these bowls.

Description and Style number
Hearts --- BWLRAS0407
Crowns --- BWLRAS0410
Bones --- BWLRAS0426

Size and Price
Size: Small (16 oz.)
Price: $47.95

Size: Medium (24 oz.)
Price: $52.95

Size: Large (32 oz.)
Price: $57.95

Size: Extra Large (64 oz.)
Price: $64.95

When ordering, please specify style number, gold or silver ornaments and bowl size.

Prices do not include shipping, handling, or applicable sales tax.

We accept Discover, Mastercard, Visa, and American Express credit cards.