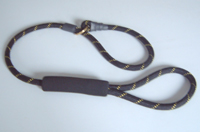 Other leashes
Super lead with ski grip
Rugged lead with ski grip
Flex o' leash line
Team logos
Safari Lead
Slip and go

Slip and Go Leash
With this all in one leash and collar, you just slip the collar on Rover and go!

The lower end of the leash can be opened to any size, then slipped around your dog's neck. The handle of this lead offers a comfortable, dense foam grip that is durable. This leash offers a comfortable, durable, dense foam grip that is durable, yet soft to the touch. Place wrist through the end of the lead for a more "secure" grip.

The lead line fabric is a round, Diamond Braided Nylon fiber skin on the outside and a solid core of Nylon fibers on the inside. All hardware is solid brass. Available in a 4' length in both the Large Rugged Size (for medium to large dogs) and the Super Size (for big dogs).

Color Bases: Black (BLK), Red (R), Blue (B) or Green (G)

These leads are made in the U.S.A.

Description, style number, and price
Description: 4' Slip and Go Leash /Large Size/Turbo
Number: LEAFARR114/L
Price: $28.95

Description: 4' Slip and Go Leash /Super Size/Turbo
Number: LEAFARS114/R
Price: $30.95

Prices do not include shipping, handling, or applicable sales tax.

We accept Discover, Mastercard, Visa, and American Express credit cards.