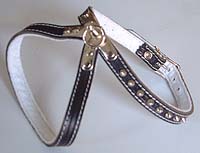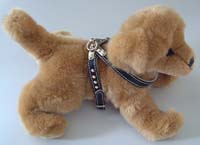 Other Harnesses
Studded leather
Safari
Double-Layered leather

Leather harness with soft felt lining
This beautiful harness boasts a soft felt lining that is soft against Rover's body, has silver colored studs, a chest-strap and decorative stitching. Made in Europe.

The harness is .48" wide and is available in size 14" (35cm) to 29.5" (75cm). The size is based on end to end measurements. Remember to add approximately 2 inches to Rover's chest girth to calculate the size.

All harnesses are available in the following colors: Red, Green, Natural, Black and Brown.

The smaller sized harnesses, 14" - 25.5" are also available in yellow, lavender, lilac and royal blue.

When ordering this harness, please specify color choice.

Size, style number, and price
Chest size: 14" (35cm)
Style number: HARGMI42035
Price: $24.95

Chest size: 16" (40cm)
Style number: HARGMI42040
Price: $26.95

Chest size: 17.5" (45cm)
Style number: HARGMI742045
Price: $28.95

Chest size: 19.5" (50cm)
Style number: HARGMI742050
Price: $29.95

Chest size: 21.5" (55cm)
Style number: HARGMI742055
Price: $31.95

Chest size: 23.5" (60cm)
Style number: HARGMI742060
Price: $33.95

Chest size: 25.5" (65cm)
Style number: HARGMI742065
Price: $35.95

Chest size: 27.5 (70cm)
Style number: HARGMI742070
Price: $36.95

Chest size: 29.5" (75cm)
Style number: HARGMI742075
Price: $38.95

Prices do not include shipping, handling, or applicable sales tax.

We accept Discover, Mastercard, Visa, and American Express credit cards.