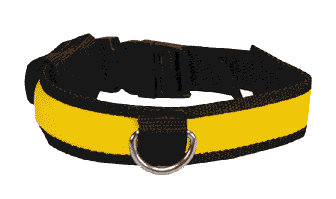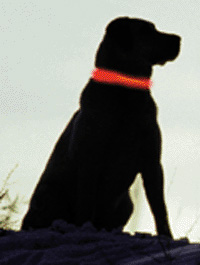 Other collars
Team logos
Safety/Glowing
Safari Collar
Leather
Jeweled leather

Flashing Safety Collar
Protect your pets when walking them at night with this visibility-enhancing dog collar -- off leash in the park, you can keep track of your Rover and motorists will see your pet, whether on a city street or a dark country road.

This innovative product features the following:

Red flashing illumination with yellow reflective material
Provides visibility up to one mile in low light and nighttime situations.
Easy to use - on/off switch
Lightweight, durable, weather resistant, safe - using very low power (3 volts) and is shock and spark resistant.
One standard watch battery provides up to 200 hours of illumination (included with the collar).
Quick-release buckle that snaps on or off in seconds.
Front position D ring is compatible with all standard leads.
Size, style number and price
Regular Collar
Size: 12" - 16"
Style number: COLSPO1216
Price: $ 27.95

Large Collar
Size: 16" - 22"
Style number: COLSPO1622
Price $ 27.95

X-Large Collar
Size: 22" - 28"
Style number: COLSPO2228
Price: $ 29.95

Prices do not include shipping, handling or applicable sales tax.


We accept Discover, Mastercard, Visa, and American Express credit cards.