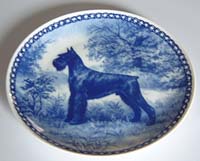 Other breed specific items
Sketch box
Toy box
Collector's plate

Danish Blue Decorative Dog Plate
(Schnauzer pictured)
The Schnauzer represents the many breeds offered on these special plates that are manufactured from the finest porcelain. Each drawing by the artist brings style, accuracy and atmosphere to the breed specific motifs. Each design is carefully made according to the original drawing and then hand decorated onto each plate.

Each plate is 8" in diameter and is pre-drilled for easy hanging. On the back of each plate is the name of the breed and the artist. All the plates are both microwave and dishwasher safe.

These plates are available in virtually any breed you can think of. Please inquire about the availability of a particular breed when ordering.

Style number and price
Price: $60.00 --- DBDPER300

Prices do not include shipping, handling, or applicable sales tax.

We accept Discover, Mastercard, Visa, and American Express credit cards.