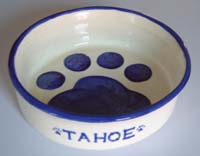 Other bowls
Mirror finished stainless steel
Hand painted ceramic
Feeder bowl stands

Hand painted ceramic bowls
These heavy, hand painted ceramic bowls are formed by skilled American craftsmen. Artisans decorate, sign each one and then glaze and twice fire them for brilliant color and durability. Like all hand painted pieces, each is slightly different from the other. The bowls are dishwasher safe. Dinnerware safe glazes and under glazes.

Color and Style number
True Blue Paw --- BWLMEL950B
Forest Green Paw --- BWLMEL950G
Tuxedo Black Paw --- BWLMEL950BK

Dimensions, Weight, Size, and Price
Small
Size: 6.75" D x 3" H
Weight: 3 lbs.
Capacity: 28 oz.
Price: $32.95

Medium
Size: 9" D x 3" H
Weight: 4 lbs.
Capacity: 48 oz.
Price: $42.95

Large
Size: 11.75" D x 3.5" H
Weight: 6 lbs.
Capacity: 96 oz.
Price: $52.95

Personalizing your dog's name directly on the bowl is available for an additional $7.50 per bowl. There is a 12-letter limit on large and medium bowls and a 9-letter limit on small bowls.

Prices do not include shipping, handling, or applicable sales tax.

We accept Discover, Mastercard, Visa, and American Express credit cards.